Optimize Storage by 35%
Improve storage utilization, increase environmental efficiency, and reduce maintenance fees by identifying storage arrays you can decommission
Consolidate Switches by 50%
Identify underutilized switches (connectivity-based) and consolidate overprovisioning of your switch ports
Rightsize Workloads by 30%
Get AI-powered recommendations to ensure the highest possible hypervisor CPU and memory utilization at the lowest cost without impacting performance
Accelerate hybrid infrastructure innovation with Virtana IPM CloudMonitor
Leverage the SaaS-based infrastructure platform that gives you panoramic health and actionable insights of your end-to-end hybrid estate, mapped to an application context to easily relate to your business
Reduce Mean-Time-to-Resolution (MTTR) across your hybrid environment by over 90%
Leverage powerful AI-based analytics to radically simplify problem remediation.
Create a unified, collaborative workflow across all your infrastructure services
Leverage an unmatched breadth of data and application-centric analytics to speed problem resolution
Access AIOps to streamline your infrastructure and predict points of failure before they happen
Maximize availability and decrease Mean-Time-to-Detect (MTTD) by 95%
Be your team's IT hero by identifying and resolving problems before users are affected.
Leverage AI-powered recommendation engines with applied analytics that incorporate experience gained from working with hundreds of enterprise clients
Proactively prevent unplanned outages and performance slowdowns
Manage your entire IT infrastructure with a unified workload-centric approach
Enable proactive capacity planning and eliminate manual forecasting effort by 90%
Gain confidence in your forecasts with a platform that has full visibility into the rhythm and seasonality of your IT operations.
Assess your infrastructure configurations with parameters you set to prepare well in advance of when you'll need more capacity
Spend less time pouring over reports and dashboards, and more time acting on the insights you get from them
Make it easier for your teams to get the information they need to make reliable, data-driven decisions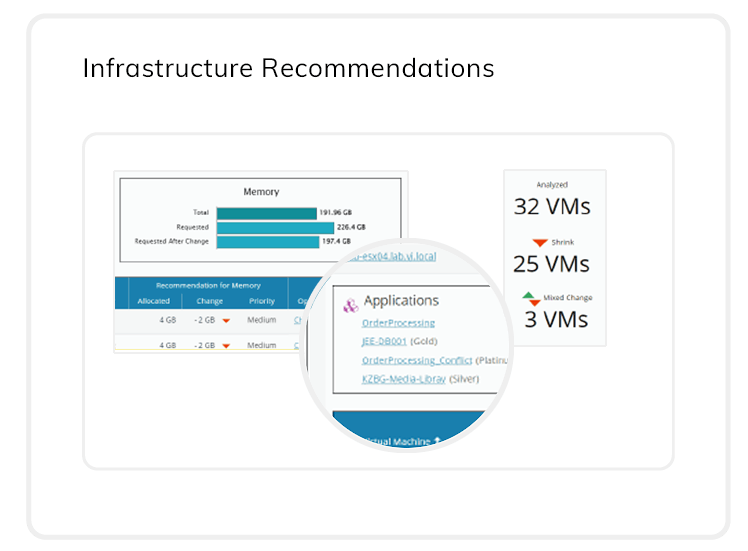 Optimize application and infrastructure resources
Meet SLAs and stay on budget with real-time data collection and analytics.
Maximize utilization of existing assets through visualization of application performance
Ensure your application workloads are optimally balanced across your global infrastructure
Easily integrate downstream execution with ITSM governance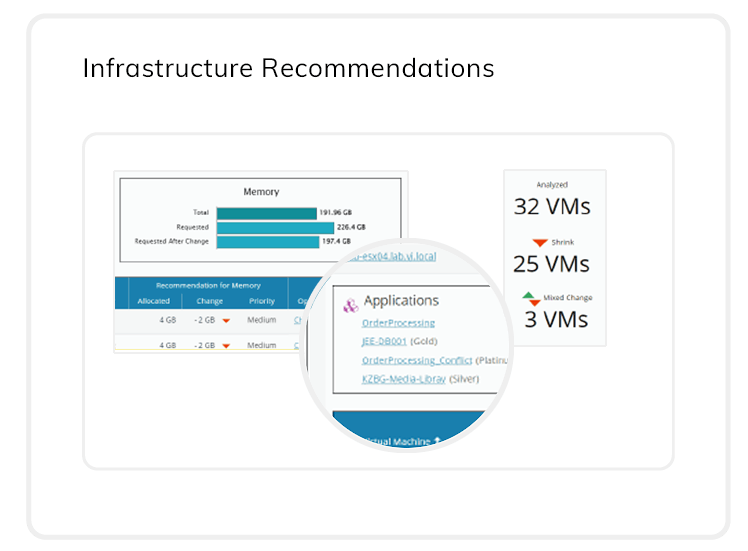 Enjoy Full-Stack Visibility
Virtana Infrastructure Performance Management is the only solution that combines massive ingest of wire, machine, and ecosystem data with AIOps, ML, and data-driven analytics — ensuring cost-effective performance and availability of your mission-critical hybrid infrastructure.
Understand What's Happening in Real Time with Unified Workload-centric Insight
Across all your hybrid infrastructure, you now have a single, trusted source of truth
Get a unified picture of your applications and hybrid infrastructure from one dashboard.
Having a platform that enables our IT teams to proactively identify potential problems before users are impacted is crucial.

See Why 150+ Global 2000 Companies Trust Virtana
Dive Deep into Virtana IPM
Find out how Virtana's AIOps, ML, and data-driven analytics deliver precision observability for your hybrid infrastructure performance management.
Request a Free Demo of Virtana Infrastructure Performance Management, today
See why leading enterprises in every industry choose Virtana