Eliminate manual data gathering
Ditch the static spreadsheets—and the time it takes to map applications to storage and gather data from your individual arrays.
Improve resource utilization
Get more from your existing storage investments without impacting performance.
Reduce IT waste
Make smarter capacity decisions and avoid unnecessary expansion.

See Why 150+ Global 2000 Companies Trust Virtana
Capacity Insights on Your Terms
Virtana CP delivers the storage capacity information you need to make better capacity decisions.
Ensure workload availability by knowing you have the capacity you need.
Leverage data-based assistance for improved budget planning.
Predict when you will run out of capacity.
Executive-Level View of Storage Capacity
Get the information you need without spending lots of engineering hours on compiling the data.
Free up your team from low-value work so they can focus on more strategic initiatives.
Align your capacity requirements with current and future plans.
Gain highly accurate insights into capacity usage trends.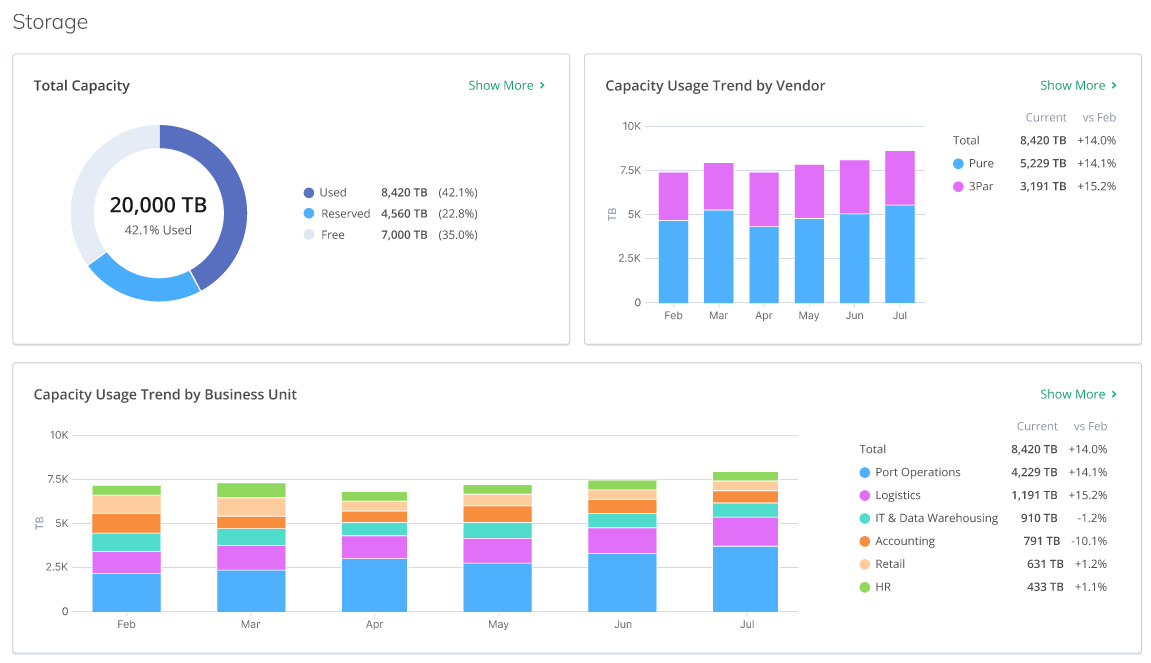 Capacity Reports
Group and filter by site and vendor to provide the appropriate level of detail needed.
Understand historical consumption to improve planning.
Avoid unforeseen capacity issues affecting performance, stability, and budgets.
Configure proactive notifications according to your preferences.
Capacity Mapping
Use Virtana Resource Groups to map capacity to applications or lines of business to understand which workloads are consuming capacity.
Have complete confidence in knowing the types of hardware and software you are using and the performance of your current workloads.
Align capacity usage by department or team, increasing planning accuracy.
Adjust capacity based on department needs or changes in project requirements.
Trend Analysis
Track monthly capacity trends with historical analysis for more informed capacity planning and to monitor progress during a migration.
Get accurate insights from aggregating multiple data sources into one comprehensive view.
Automatically capture changes to capacity usage as they happen in real time.
Monitor and adjust your capacity plans as requirements and priorities change.
Flexible Report Delivery
Email capacity reports on your schedule or export via download or API to present the right data to the right person at the right time.
Involve all the appropriate stakeholders in the planning process and ensure they have the information to make data-driven decisions.
Inform relevant stakeholders on changes to the capacity plan that may affect their projects.