Spend less time setting up the test environment and more time actually running tests
Get more data points—and, in turn, greater insight—with a wide variety of production workloads.
Maximize savings
Perform multi-vendor bake-offs to quickly find the ones with the best performance at the lowest cost.
De-risk the change process
Test at scale before rolling changes, such as vendor firmware/software updates, out to production.
The Platform of Choice for Storage QA and Engineering Teams
Virtana SLT is a comprehensive, easy to use solution to test the performance and scale of any storage system with real-world application workloads, whether they reside on premises or in the cloud.
Unprecedented Realism
Get reality-based insights to deploy the most cost-effective and performant storage systems for your workloads.
Run real-world workloads against other systems to evaluate performance that reflects how you use the storage systems.
Model product workloads to the highest degree of fidelity possible with our workload import facility.
Use your workloads' unique characteristics to create benchmarks that align to business outcomes and objectives.
Ease of Use
Enable your team to analyze production workloads, create workload models, and administer the generation of highly realistic simulated workloads.
Easily build custom workload generators with our intuitive, web-based GUI.
Generate workloads across file, block, and object right out of the box with our extensive library of templates and example workloads.
Share workloads and results with built-in collaboration and reporting.
Extreme Scalability
Model complex traffic loads and leverage rich, accurate representations of performance across your workloads.
Produce millions of IOPs per port with our purpose-built load generators.
Leverage our custom drivers, which come in a 2U form factor and provide 2 to 8 ports per load generator, to drive every port wire speed.
Define your worst-case scenarios easily by just turning up the dial.
Analytics and Reporting
Get the insights you need to deploy the most cost-effective and performant storage systems for your workloads.
Generate useful reports to make intelligent, vendor-independent decisions about storage purchases, configurations, and deployments.
Maintain all workloads and results in a database so you can easily create reports from templates that compare results for different runs/workloads/releases.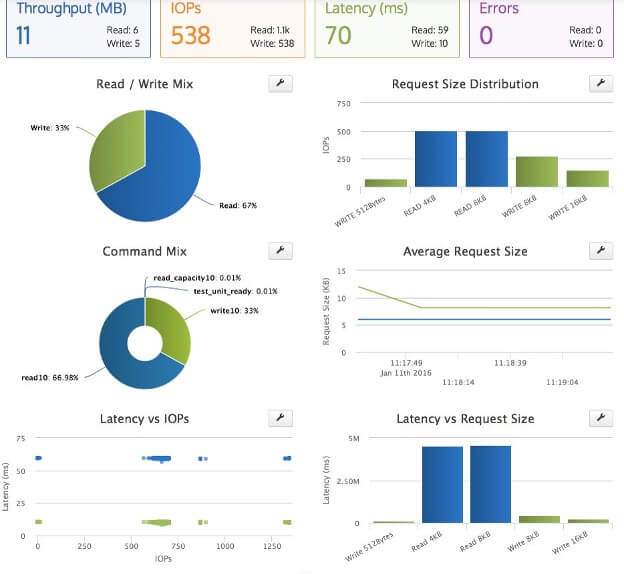 Consistency and Repeatability
Testing solutions running on top of an operating system incur variability from OS, firmware, or hardware; Virtana's load generators eliminate these factors entirely.
Ensure the workload you run now will be the exact same workload you ran previously.
Compare "apples to apples" when running a workload against different storage systems.
Dive Deep into Storage Load Testing
Find out why Virtana Storage Load Testing is the gold standard for storage performance validation.