Know before you go
Virtana Migrate provides you with full visibility into existing on-premises workloads and the tools to make the best decisions about application priorities, grouping, and deployments so you can gain deeper insights and get cloud migrations right the first time, every time.
Discover, assess, and map on-premises environments
Virtana Migrate leverages our on-premises data collection engine called Observe to provide the insights needed so you can plan smarter when preparing application workload movements.
You can discover and map topology as well as collect data on the operations of the discovered infrastructure. Plus, you can extend Observe as needed with select enterprise integrations related to storage, virtual infrastructure, host operating systems, hyper-converged infrastructure, and more.
Create "move groups" for applications and services
Virtana data science and conversation analysis help you identify dependencies between workloads, infrastructure, and IT services so you can create target "move groups" of applications and services to migrate together for improved performance and reduced risk.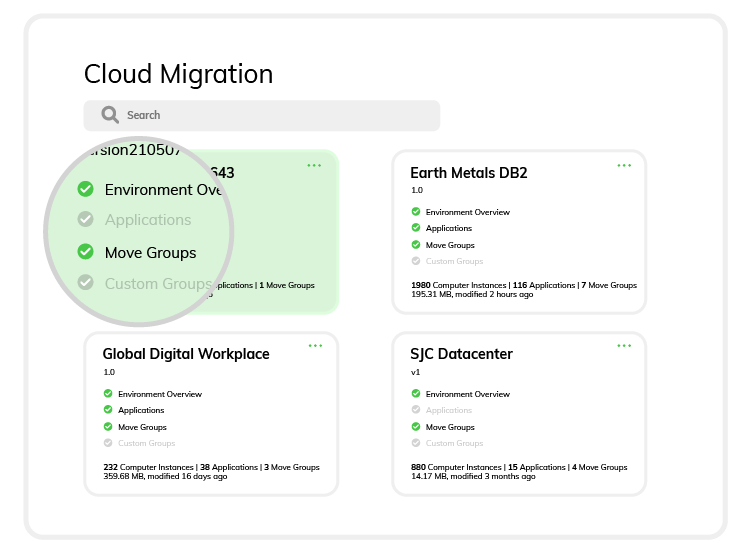 Achieve full visibility with process tracking and reporting
When you're migrating hundreds of applications, you need a full process approach. Potential future transitions between cloud providers, zones, and physical locations mean your migration journey continues long after initial deployment. Virtana Migrate's process approach enables ongoing tracking, so you'll maintain full visibility into process workflows from your first migration onward.
Visibility into how our applications interacted with each other was critical in making the right data center decisions. It's really important to understand what those interdependencies are before applications are migrated. Even if we stayed on-prem, Virtana Migrate gave us the knowledge to see how we can optimize our current environment—and that alone pays for itself time and time again.
The Complete Cloud Migration Planner
Looking for an easy-to-navigate guide as you plan your migration? This free e-book will help you ask the right questions, avoid common pitfalls, and guide you through the cloud migration process from planning to execution and beyond.
See why 260+ global 2000 companies trust Virtana
Expertly Manage Your Cloud
Leverage simple yet powerful analytics to lower cloud costs and assure performance. Utilize deeper and more real-time data to manage cloud migrations and resources.